Hand Sanitiser
(Refill)
RAAD® hand sanitiser will change your perception of water-free cleansing. No more dried out hands, thanks to the enriching qualities of Harakeke and Aloe Vera leaf extract. Your skin will feel moisturised and soft. 7O% alcohol ensures the job is done and you're left with the addictive scent of Bergamot & Moss.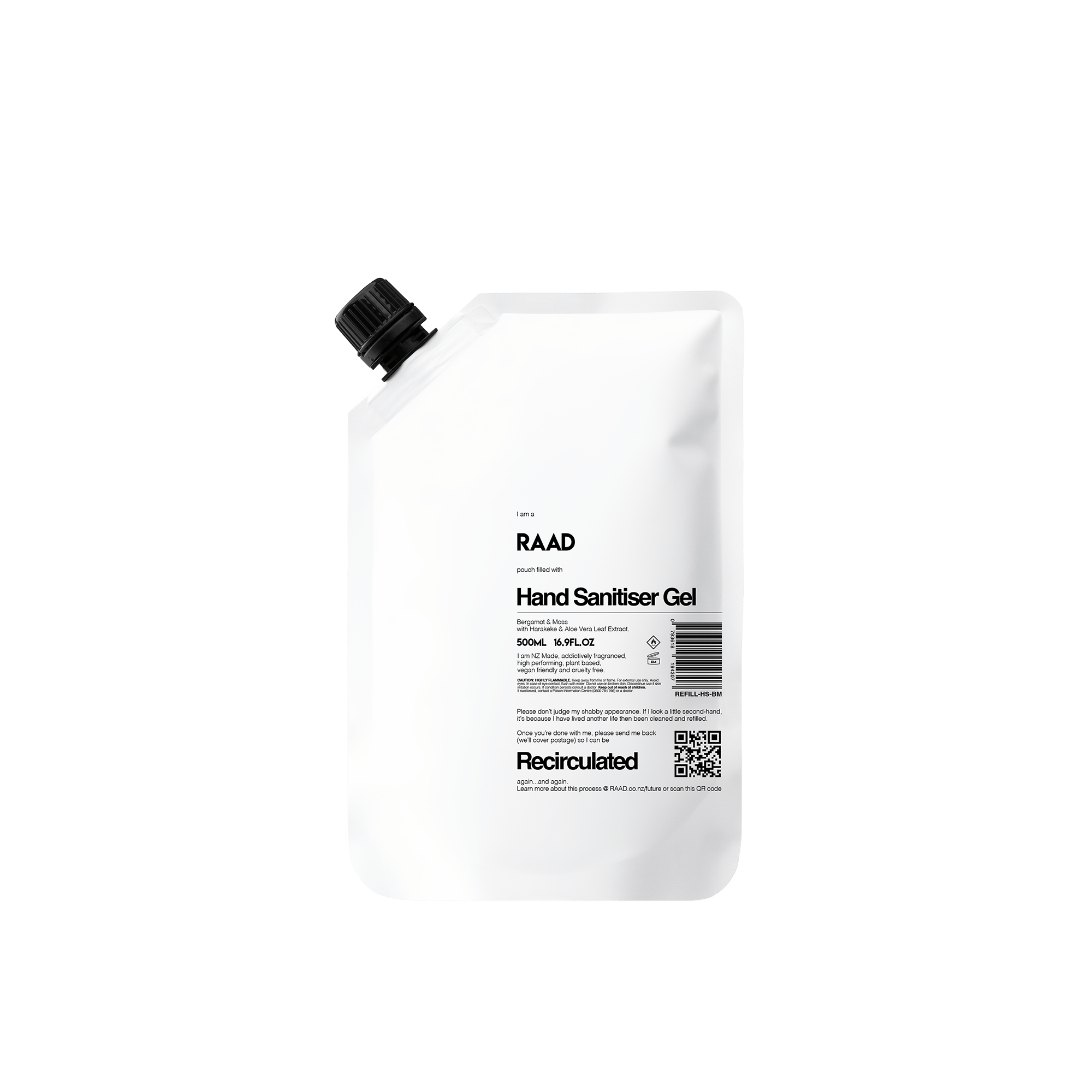 Includes:
Hand Sanitiser Refill (500ml)
---
---
---
---
---
Harakeke Leaf Extract
A traditional source of hydration and healing, Harakeke is overflowing with benefits. A balm that calms and soothes, balances oil production and boosts skin's external barrier to seal in moisture.
Aloe Vera LEaf Extract
Mother Nature's famous healing gel is abundant with active compounds; vitamins E & C as well as minerals such as zinc and amino acids. A natural humectant, it gently heals and softens dry skin and adds buoyancy.
Our plant based formulations are a blend of nature's finest and humanity's best scientific developments. Designed to be highly effective, nourishing and insanely enjoyable thanks to a combination of clinically proven ingredients and carefully curated active botanicals. Vegan, NZ Made, Not Tested on Animals.
How it works
1. Your RAAD® Refills are shipped to you in resealable, cardboard envelopes (100% Recyclable and Biodegradable).

2. Fill this envelope with 20 empty RAAD® Refills (with lids on) then email us for your prepaid return to sender ticket.
3. Book pickup or drop to your local NZ Post Store.
THOUGHTFULLY PACKAGED
Beautifully resolved and succinctly functional, RAAD® packaging presents a lux experience at every touchpoint.
Durable, 100% recyclable and biodegradable cardboard envelopes will protect your refills and spark joy on arrival - for the planet, for yourself or kindly for another.
Made from future friendly materials.
Explore full refill collection