Laundry Liquid
(Refill)
RAAD® laundry liquid is designed to love your garments as much as you do. Our gentle formula possesses powerful cleaning agents designed to revive fabric and remove impurities, while the active naturals; Olive Leaf and Orange Peel extract, consciously contribute freshness, vibrancy and softness.
Please note: The fragrance strength will vary depending on machine and wash cycle type.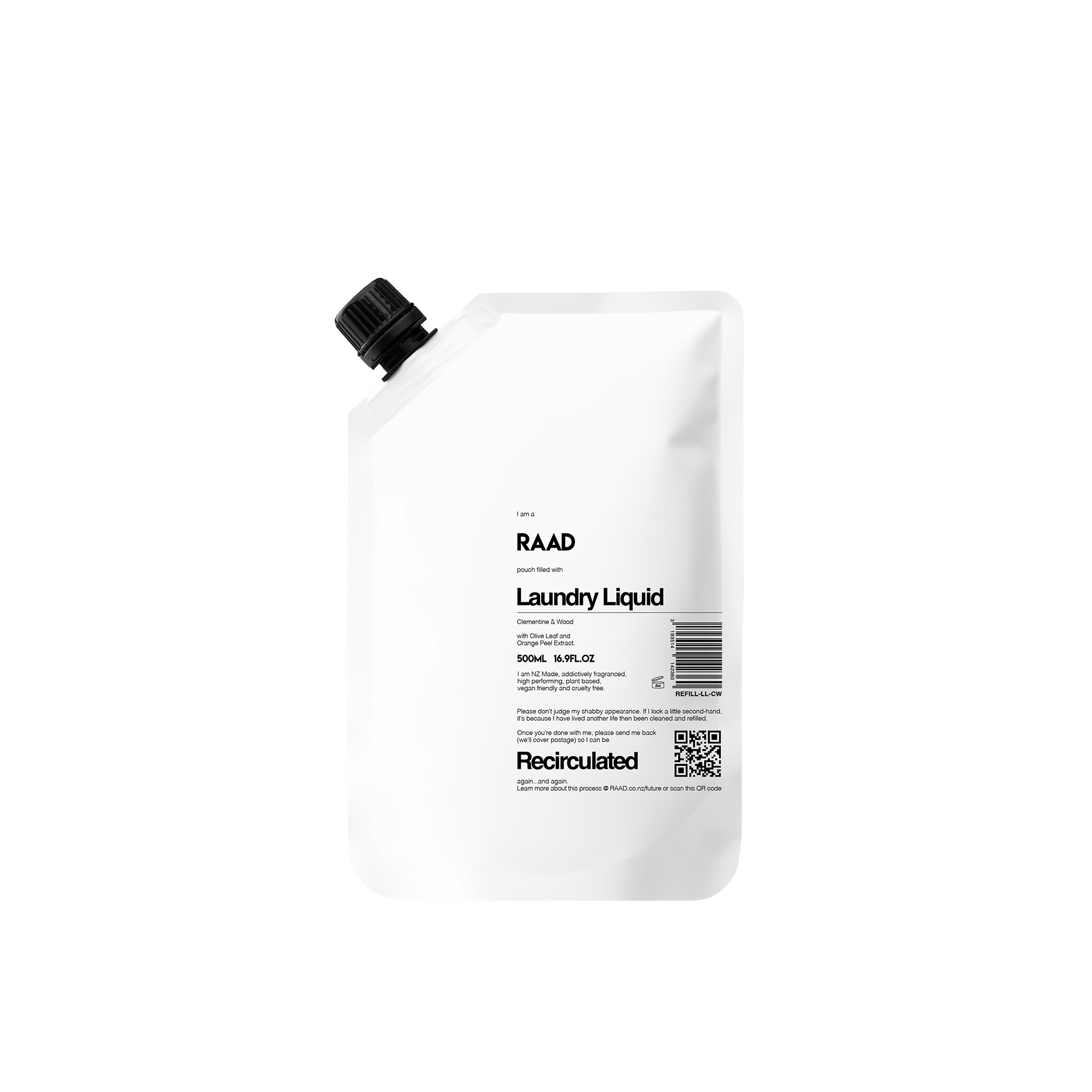 Includes:
Laundry Liquid Refill (500ml)
---
---
---
---
---
Olive Leaf Extract
An ancient source of nourishment and protection offering a wealth of home and health benefits. A natural antimicrobial perfect for gentle cleansing, natural fabric cleansing.
Orange Peel Extract
Orange Peels produce D-Limonene which is excellent for cleaning and disinfecting. Bursting with antimicrobial properties it's a highly effective yet gentle all-purpose disinfecting agent.
Our plant based formulations are a blend of nature's finest and humanity's best scientific developments. Designed to be highly effective, nourishing and insanely enjoyable thanks to a combination of clinically proven ingredients and carefully curated active botanicals. Vegan, NZ Made, Not Tested on Animals.
How it works
1. Your RAAD® Refills are shipped to you in resealable, cardboard envelopes (100% Recyclable and Biodegradable).

2. Fill this envelope with 20 empty RAAD® Refills (with lids on) then email us for your prepaid return to sender ticket.
3. Book pickup or drop to your local NZ Post Store.
THOUGHTFULLY PACKAGED
Beautifully resolved and succinctly functional, RAAD® packaging presents a lux experience at every touchpoint.
Durable, 100% recyclable and biodegradable cardboard envelopes will protect your refills and spark joy on arrival - for the planet, for yourself or kindly for another.
Made from future friendly materials.
Explore full refill collection