Hand Wash
(Refill)
High performing, aromatic hand wash designed to get you through the day. Wash after wash, you'll enjoy the delicious scent of Clementine & Wood while you relax knowing the dirt is gone and the germs have left the building. Gentle botanicals; Harakeke Leaf, Licorice Root, Avocado and Almond Oil ensure your skin is left feeling soft, smooth and enriched.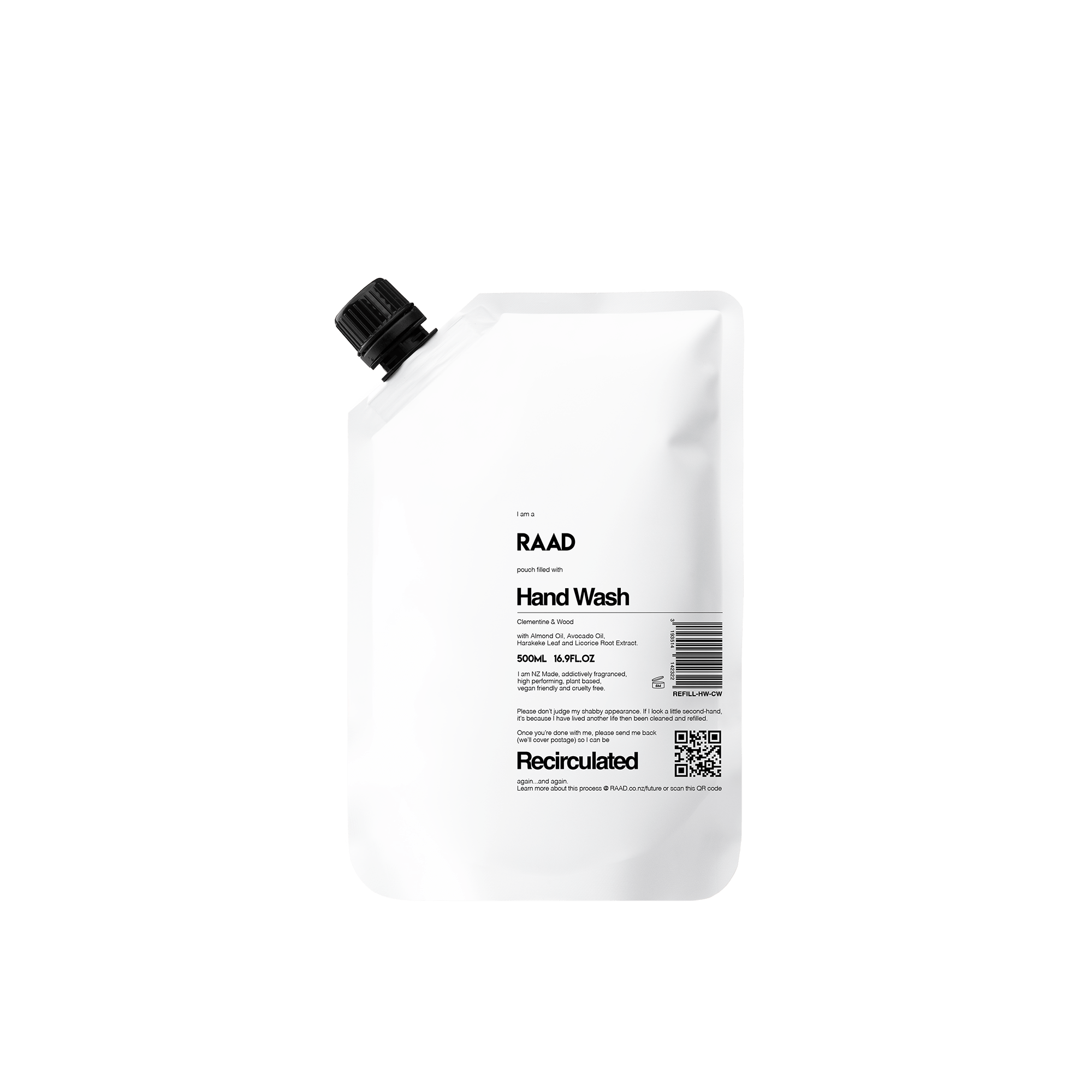 Includes:
Hand Wash Refill (500ml)
---
---
---
---
---
Harakeke Leaf Extract
A traditional source of hydration and healing, Harakeke is overflowing with benefits. A balm that calms and soothes, balances oil production and boosts skin's external barrier to seal in moisture.
Avocado Oil
A rich oil renowned for centuries for sublime moisturisation, anti-inflammatory properties and lack of oily residue. Bursting with vitamins A, D and E as well as potassium it nourishes the outer layer of skin and encourages new skin cell growth. 
Almond Oil
A centuries old solution for supple, smooth and soothed skin. Often used as a treatment for minor conditions or wounds due to its antibacterial properties, Almond oil is ideal as a preventative inclusion offering easily absorbed, nourishing Vitamin E. 
Our plant based formulations are a blend of nature's finest and humanity's best scientific developments. Designed to be highly effective, nourishing and insanely enjoyable thanks to a combination of clinically proven ingredients and carefully curated active botanicals. Vegan, NZ Made, Not Tested on Animals.
How it works
1. Your RAAD® Refills are shipped to you in resealable, cardboard envelopes (100% Recyclable and Biodegradable).

2. Fill this envelope with 20 empty RAAD® Refills (with lids on) then email us for your prepaid return to sender ticket.
3. Book pickup or drop to your local NZ Post Store.
THOUGHTFULLY PACKAGED
Beautifully resolved and succinctly functional, RAAD® packaging presents a lux experience at every touchpoint.
Durable, 100% recyclable and biodegradable cardboard envelopes will protect your refills and spark joy on arrival - for the planet, for yourself or kindly for another.
Made from future friendly materials.
Explore full refill collection